Excel in the workplace with online business English courses and lessons from BEcourse. Learn business English you can use today and speak English with confidence.
Business English Courses to Help You Succeed!
With our easy-to-use online learning platform you can access your courses right away, check your progress and earn points and badges to keep you motivated.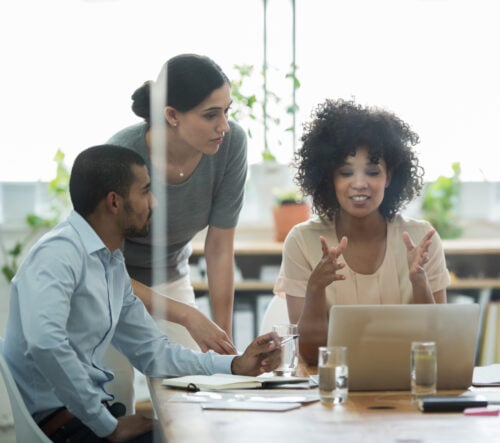 Designed for learning on PCs or mobiles, the lessons include multi-media presentations and downloadable PDF transcript andMP3 audio files so you can also study offline.
Our courses guide you through the key business English for situations like meetings, job interviews and presentations with lots ofopportunities to practice your English along the way. Measure your progress with regular quizzes to check your understanding.
We've priced our courses to suit all budgets. For teachers and schools, we offer bulk discounts and private groups to manage your students and check their progress.
We are committed to helping our learners develop essential business English skills such as how to answer the phone or explain your ideas in meetings, all while becoming more confident with using English in the workplace.
We know that every student learns differently, which is why we aim to provide you with self-study online courses that keep you motivated and focused on learning the business English you need.
Do you want to Excel at Business English?
Choose from our expanding selection of business English courses and take your English skills to the next level.
Most frequent questions and answers
BEcourse is an online platform that provides business English courses for adult English learners.
BEcourse provides business English courses for specific skills (meetings, presentations, etc.), business roles (sales, project management, etc.).
A typical lesson on BEcourse has 2 parts: A) a multimedia lesson presentation featuring a model dialog, teacher explanations and a practice section and B) a progress quiz to assess your understanding of the lesson. In addition to the online, mobile-friendly lessons, each lesson also has two downloadable resources: A) a PDF transcript of the lesson, B) an MP3 audio file of the full lesson.
All the lessons used in our courses are created and licensed from Business English Pod Ltd. Business English Pod is a leading publisher of business English lessons and materials.Who makes the lessons used on BECourse?​
Our lessons are designed to guide you through each step in a given situation (eg. answering the phone, finishing a presentation). In addition to the featured dialog, there are detailed teacher explanations of the language, ideas and vocabulary used in the dialog and opportunities to practice the target language and vocabulary.
You will learn expressions and phrases related to the lesson topic (eg. How to discuss and problem, how to answer the phone, etc.). Along with the featured language, the lessons explain key vocabulary and are a great way to improve your listening skills at the same time.